A Call to Prayer for the Global Church: Religious Persecution in Eastern Ukraine

5.05.2018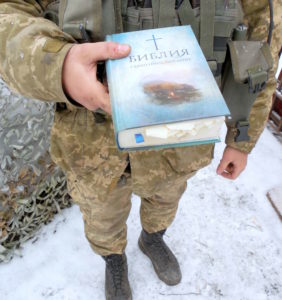 Christians in eastern Ukraine are under fire from a variety of sources, as Dr. Michael Cherenkov, Mission Eurasia's executive field director, writes for The Baptist Times:
"War continues to ravage eastern Ukraine, where conflict erupted in April 2014 following Russia's annexation of Crimea and the violent actions of pro-Russian separatists. Along with forcing millions of people from their homes, the ongoing conflict has also resulted in the harsh persecution of Protestant pastors and churches throughout the territories that are occupied by pro-Russian separatist groups. One such group is the Luhansk People's Republic (LNR), which is located in Ukraine's Luhansk region and declared independence in May 2014."
Continue reading the article here.
Since the outbreak of the war in eastern Ukraine four years ago, Mission Eurasia has drawn the attention of the international community to the  religious freedom violations committed by the LNR in eastern Ukraine. And now these violations are becoming a central part of the LNR's legal framework as the group models its agenda on Russia's harsh religion laws. From church raids to the abduction and torture of Protestant pastors, the LNR is waging war against the Protestant church in the Luhansk region.
We ask the global church to please pray, support, and advocate on behalf of our brothers and sisters in Christ who are losing their freedom to worship and suffering for their faith in eastern Ukraine.
Read the full article here to learn more about the LNR and their persecution of Protestant Christians and churches in the Luhansk region of Ukraine.