How Teenagers can Stay Strong in Their Faith

11.11.2021

Earlier this month, our Director of School Without Walls (SWW) in Ukraine, Konstantin Teteryatnikov was blessed to lead a SWW seminar called "How Teenagers can Stay Strong in Their Faith" at Spring of Life Church in Kremenchug, Ukraine, as part of Family as Mission Initiative.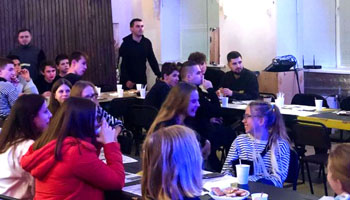 Although it was Saturday, 40 teenagers and young adults were eager to attend and learn how to grow closer to God. After the seminar, many people came up to Konstantin thanking him and saying that the message "resonated and really hit home."
One of the teenagers, Sabina, shared: "I received answers to my questions as to why it's better to be a believer rather than a non-believer. The speaker talked a lot about the advantages of a Christian life. I made a decision to follow Christ and build my relationship with the Holy Spirit. We also had a lot of practical life hacks as to how to stay strong in faith and be victorious."
Anton Mazur, a youth leader, was also grateful for the seminar and explained the seminar provided "useful instruments" to help young people grow in their faith and helped the attendees "discover God's Word in a new way."
Will you help us host more events like this and encourage more young Christian leaders in their faith?
Learn how you can support School Without Wall here.