Elza's Testimony: The Truth Will Set You Free

3.07.2018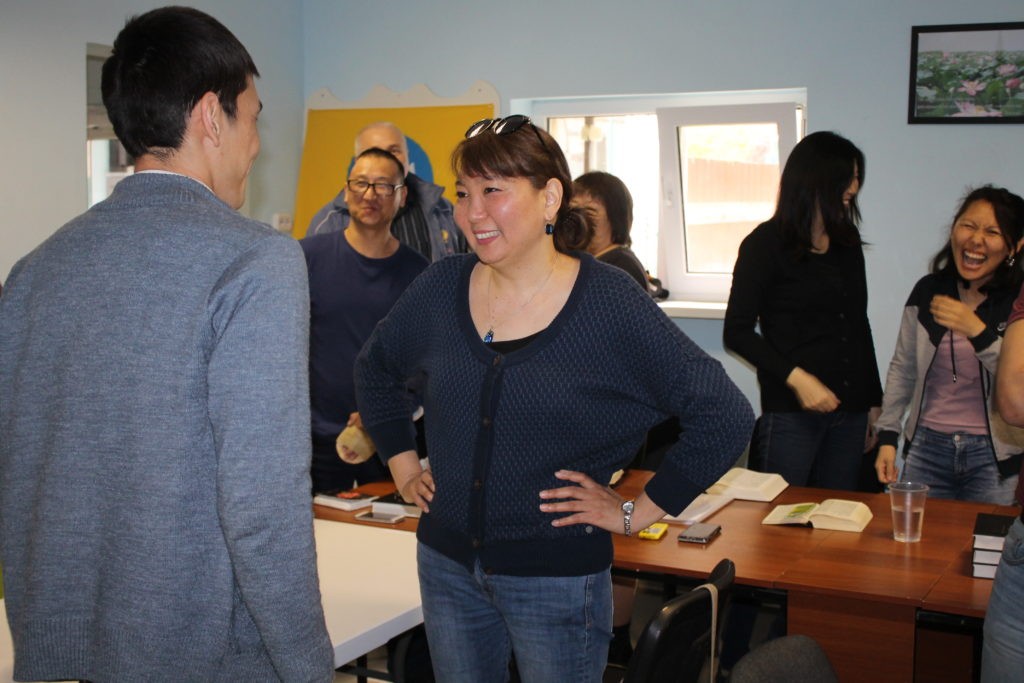 Elza is one of our first School Without Walls graduates from Russia. She and her husband planted a church several years ago in the capital city of Kalmykia, Russia and they feel called to minister to the native Kalmyk people there. Elza has an incredible faith story about how God touched her heart and convicted her to renounce Satanic influence in her life. The Truth of Christ has truly set her free!
Elza and her husband considered themselves good Kalmyks – they zealously followed Kalmyk traditions, and their tribe could trace its ancestry back to Genghis Khan. They were very proud of their identity and history, studying Kalmyk culture, music, folklore, and making frequent trips to Mongolia. In keeping with Kalmyk tradition they married early, and by the age of 16 Elza was already expecting her first baby.
Elza's husband was a third generation healer – he had inherited an ability to see injured joints and correct them. His father was very respected as he had the ability to find lost people and animals by rubbing two sharpened sticks together. "The superstition which surrounded us from childhood made us, on the one hand, very proud," says Elza. "On the other hand, we were afraid to in any way break the traditional rules binding us, and were constantly afraid of curses, and looked to shamans and Buddhist teachers for guidance, hoping to please all the gods. Ironically, at the same time we saw ourselves as good Soviet citizens – educated, modern, making independent decisions."
Elza's husband was a professional wrestler, she graduated from a music conservatory, they hadn't ever argued in their four years of marriage, yet their perfect lives turned upside down when the Soviet Union fell. As repressive state control disappeared, food shortages, drastic inflation, and a spike in crime took its place. Many people, unable to deal with the new reality, turned to alcohol or drugs. Others, upon receiving their freedom, started looking for something new to give their lives meaning. Elza and her husband joined this search.
Their folk Buddhism couldn't offer a satisfactory solution to their hunger for the truth. So they started to search. "We searched, and it is hard to say what we hoped to find," shares Elza. "We simply felt unsatisfied with our lives, so we went searching. We started with ufologists. This seemed like the most modern and likely explanation – aliens sent great teachers to Earth: Buddha, Jesus, Mohammed, and others. However this theory did not offer any answer to what happens to us after death, so we did not find it very comforting. The whole country was looking for the meaning of life, and there were many different teachings, societies, and groups promoting their worldviews. Every day we would visit a new group to hear a new take on the Apocalypse, reincarnation, or life on Mars."
At one ufologist meeting someone told Elza's husband that the reason for meaninglessness and for death is sin, and that God can free people from their sins through Jesus. Elza refused to listen to this new theory, saying it was better to stop their search altogether and to return to their Buddhist faith like good Kalmyks rather than even consider worshipping the Russian God.
Elza's husband didn't argue with her, but rather started secretly attending Christian services. After a few months he repented and gave his life to Christ. Elza noticed that he was changing, and couldn't understand what was happening. They started arguing for the first time, and finally, at the end of her rope, Elza decided to go to one of these Christian meetings and create a scene. She was angry that this sect was destroying her family and her people.
The first time she came to a church service, Elza resisted the urge to create a scene because, to her shock, she found not only Russians there but also Kalmyks! After the service she approached the pastor, a Russian, to complain. To his credit, he patiently listened to her, and then suggested that they read the Bible together and search there for answers to the questions bothering her. They spent a month meeting, talking, and studying the Bible, and gradually her heart began to change. "The turning point for me was reading Jesus' words in John: 'And you will know the truth and the truth will set you free!'" shares Elza. "I was tired of living with constant doubts and fears and superstition. I finally made the decision to accept Jesus Christ as my Lord and Savior."
Elza's husband was overjoyed that God had answered his prayers for his wife. However, when they returned home they faced three days of intense spiritual warfare, and Elza realized just how bound up she had been in occultic chains, all the while thinking herself a progressive, secular woman. On the third day they finally prayed together, renouncing all of Satan's influence in their lives and asking God to protect them from evil spirits and make them truly free.
Soon after, they moved to her husband's village of Tsagan-Aman to plant a church. The people knew Elza's husband as a healer and came to him asking for his help, but since their prayer rejecting Satan's influence, he found that he had completely lost his ability to "see" and heal injuries. "However he understood that God had taken away this ability in order to give him spiritual gifts," Elza shares. "Now instead of physical healing, my husband taught people about Jesus, who is the Way, the Truth, and the Life, and the only true Healer."
After planting a church in Tsagan-Aman, the couple moved to Elista, the capital of Kalmykia, to plant a Kalmyk church. They faced many hurdles and had a lot to learn in the process of planting a church that was Christ-centered yet honored the positive elements of Kalmyk culture. Elza supported her husband, the pastor, and helped lead worship playing on national instruments. "Outsiders sometimes don't approve of our efforts to present the Gospel in a way that is acceptable to the Kalmyk worldview," shares Elza. "However our goal was to serve God and serve our people, who are sometimes aggressive and closed to change. We needed patience and a learning spirit!
"SWW was absolutely invaluable in supporting, training, and equipping us in the difficult task of sharing the Gospel in a culturally acceptable way. SWW has trained a new generation of Kalmyk leaders with a heart to reach their people. I graduated from SWW a few years ago and was amazed at how helpful the seminars were in preparing me to fulfill what I feel to be God's calling in my life.
"Many SWW graduates have become home group leaders, or have moved to other cities as church planters. We continue to serve in Elista, raising up the Next Generation of missionaries and evangelists with a passion to share the Good News despite cultural barriers and the anti-missionary laws passed in Russia last year. We are grateful for the steady flow of innovative ideas and printed resources that we receive from SWW, which are invaluable evangelistic tools.
"The three-day SWW conference in Kalmykia in April brought together our network of church and home group leaders from throughout the region and taught us a wonderful method of building bridges with our people. We were overjoyed and refreshed in our commitment to serve, thanks to the tools we received at the conference, which are very practical and applicable in our culture.
"My life has been filled with deep meaning since I accepted Jesus! I was recently diagnosed with cancer, however I can say with confidence, 'My Reedemer lives and my life is in his hands!'" Elza has gone through two rounds of chemotherapy and remains active in ministry.