Grigorii's Story: From Communist Party Leader to Follower of Christ

6.14.2019
Open my eyes, that I may behold wondrous things out of your law.
– Psalm 119:18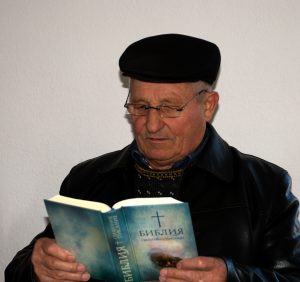 "I spent most of my adult life working as a local Communist Party leader," shared Grigorii. "I ran meetings and kept lists of party members, including members who brought shame on our Party by doing things like attending church. My entire meaning in life was tied up in the Party.
"When the Soviet Union fell, I lost my job and my life lost its meaning. I moved to a small town and struggled to make ends meet. I faced a lot of health problems, including difficulty walking and seeing. My old glasses were completely useless and I had no money for new ones. It got to the point where I could no longer watch TV or read a book, and instead I just listened to the radio. In the summer of 2014, I was listening to the radio and heard that war was about to reach our town. I left my home and hobbled on my crutches over to my neighbors, whom I knew to be Christian believers, and I yelled at them angrily, 'What kind of God would let this happen?'
"However, if it weren't for those neighbors, I wouldn't have survived the last four years of war. I am grateful to them for buying me food, helping me cook, and taking me out for walks. I was grateful for these Christian neighbors, but I couldn't make myself believe in God—my heart was hard and I was still resisting Him. A month ago, these same neighbors brought me to the free eye clinic to get new glasses. At the clinic, I met other Christians who were just as kind and caring as my neighbors. Together with the glasses, they gave me a Bible and a copy of a Christian magazine. When I got home, I was so impressed by their kindness that I prayed for the first time in my life: 'God, if you are the one helping me through these people, then I want to believe in You.'
"From then on, my life changed completely. I began reading my Bible every day, attending services at the local Baptist church, and praying. Two weeks ago, I was baptized, and now I am a child of God. God has given me a new mission: I found my old lists of my Communist Party comrades, and now I am writing them letters about how Jesus has changed my life. I am including copies of evangelistic literature with my letters and my pastor is helping me mail them. I pray that Jesus will change their lives like He changed mine!"
Thank you for helping our leaders reach thousands of hurting people like Grigorii with the truth of the gospel, inspiring them to share the Good News in turn and multiplying the impact of God's Kingdom!