Meeting Jesus Through Gift of Hope

3.07.2018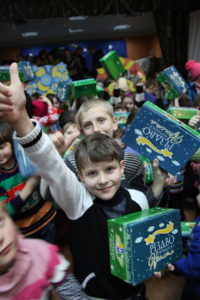 Every Christmas season, the School Without Walls (SWW) students and graduates trained and equipped by Mission Eurasia deliver thousands of Christmas gifts to children in need throughout Eurasia. Each festive, hand-delivered Gift of Hope is filled with toys, treats, and a children's storybook Bible that shares the story of the greatest Gift of Hope of all: Jesus. The gifts are distributed by our leaders in orphanages, hospitals, rehabilitation centers, schools, and neighborhoods where children are suffering or abandoned. Each Gift of Hope gift represents a connection to the local church and a starting point for a relationship with caring Christian role models.
Tigran, whose life was impacted through Gift of Hope and the example of one of our SWW students, Alexey, shared his story with us in his own words:
"My name is Tigran, and I am 12 years old. My mother died of cancer when I was nine, and my dad is a migrant worker in Russia. I take care of my little brother, Edik. Sometimes we don't have enough food and clothing, and many of the parents in our building won't let us play with their kids because our dad smokes a lot and our clothes are always covered in smoke. We often feel very hopeless.
"For Christmas, a young man named Alexey who lives in our apartment invited my brother and I to a Christmas gathering at his church. Everyone there was so kind, and I really loved learning about God. Alexey gave us Gift of Hope boxes and our own copy of 101 Favorite Bible Stories. After reading these stories, I accepted Jesus. Now Jesus gives real hope and meaning to my life, and Alexey and I read Bible stories together almost every day! I am going to church regularly, and soon I plan to invite my father to go with me. Please pray that his life will be changed too."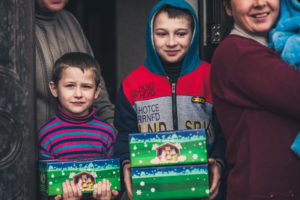 To provide the Gift of Hope and the life-changing message of
Jesus this  Christmas to children like Tigran and his little brother, please give today: